Conference Venue
ICCCN 2010 will be held in the main building at ETH Zurich (Rämistrasse 101, 8006 Zurich, Switzerland). Detail room information and travel directions will be posted at a later date.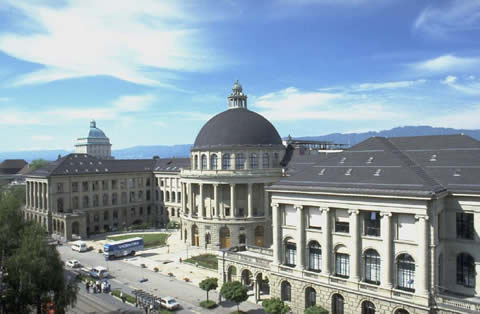 ETH Zurich Main Building.
Zurich
"Zurich, Downtown Switzerland"
Even though this is a slogan created by Zurich Tourism, there is some truth in it. Zurich is the economic capital of Switzerland. With a population of merely some 400,000 people within the community borders, Zurich is the heart of an economic area that encompasses some 1.5 Million people. Zurich is well-known for its financial industry, with all its implications (the legendary anonymous bank accounts that are only identified by a number have disappeared long ago and can now only be found in movies). Zurich is also beloved for its splendid location at a lake and near mountains.
For more information, see the Wikipedia article about Zurich.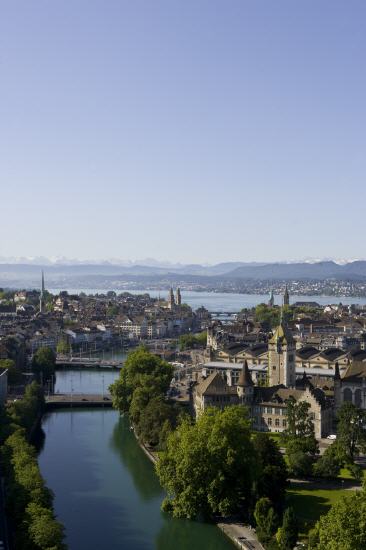 Zurich and its Lake.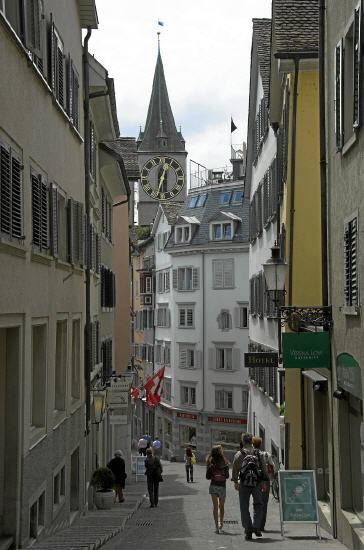 Street in Zurich's Old Town.
How to Get There
To get from Zurich Airport to the ETH or hotels close by, the best option is to take the streetcar (TRAM) number 10. This takes approx 30 minutes. Alternatively, you can take a train from the airport to Zurich main station (HB) which takes around 10 minutes, and then walk from there or take a streetcar. In both cases you can walk from the airport to the train / streetcar - follow the appropriate signs. Streetcar from airport is most simple if you have luggage. Either option will cost 6.20 CHF one way.
You can also take a taxi - they are expensive, and travel times are unpredictable as the traffic to and from airport is usually subject to strong congestion. Count on 100 CHF, we recommend against taxi. Switzerland has perfectly fine public transportation.
For detailed public transportation schedules, please see: http://fahrplan.sbb.ch/bin/query.exe/en? The names for the destinations are:
Airport stop: Zürich Flughafen
ETH stop: Zürich, ETH/Universitätsspital
Zurich Main Station: Zürich HB
There are multiple trainstations within the city of Zurich. Be sure to exit at the right one, having "Zurich" on the sign is not necessarily sufficient!
Visa Information
Visa information for Switzerland:
ICCCN does not endorse or take responsibility for any particular visa service.
If you require a formal invitation letter for your visa application, please contact the General Chair, Prof. Bernhard Plattner, and provide a completed personal information template.